Toward the end of 2019, several studies appeared indicating that U.S. shale oil production was peaking. Several of these further predicted a rather steep decline in overall volume was coming.
Now, to put matters in perspective, there is hardly the prospect that shale oil will be cratering. Everybody continues to acknowledge that the aggregate totals will advance this year. Nonetheless, the average estimate of how much that rise will be has been tempered. The consensus has moved down to between 400,000 and 500,000 barrels a day from initial projections in excess of 700,000.
Initial (and rather premature) estimates for 2021 are calling for even more constricted advances, with several putting it at only 100,000 barrels a day of new production.
Yet placing this in perspective, daily U.S. totals now regularly lead worldwide production at more than 12 million barrels. Some analysts are suggesting a surge to more than 13 million during 2020.

It's what is shaping up after this year that has the industry on edge…
The Cost of Cutting Expansion is Coming Due
Interestingly, the concern emerged not in the States, but at the major global Abu Dhabi International Petroleum Exhibition and Conference (ADIPEC) held in the United Arab Emirates. There, a number of leading American shale oil producers acknowledged that they planned to reduce spending beginning this year.
Across the board, U.S. producers are expected to cut spending in 2020 by about 15 percent year-on-year.
There are a number of factors contributing to such decisions. All address a range of problems emerging – a trend that will take place even if the price of oil increases.
Heading the list is a contraction in margins. There is still plenty of recoverable shale oil available, and with market prices near $60 a barrel, there is still money to be made. But the continuing advance of extractions is coming under increasing pressure. Profits are constricting.
This results from several ongoing factors. First, significant cuts in working capital occurred when prices collapsed in 2015 after a Saudi-led OPEC move to protect market share rather than prices. U.S. companies opted to invest in already producing wells. However, in the process of emphasizing the lowest cost and largest producing wells, the necessary expansion of operating locations was sacrificed.
Those targeted locations have moved into substantial decline, and offsetting the lowering of volume now requires more expensive new drilling. Similarly, given the accelerating costs, primary activity has been restricted to a few major basins, discounting considerable available reserves in satellite and smaller fields.
Oil is there but costs more to lift. The available sources of adequate profit are shrinking.
Meanwhile, the expense side is increasing. As the collapse in oil prices intensified in 2015 and 2016, operators forced cost cuts upstream to the oil field services (OFS) sector. With all the talk about improved technology and technique reducing expenses during the period, the main cuts resulted from forcing drillers and seismic providers to eat losses. That has now ended and an outright inflation is underway on OFS.
Of course, this also discouraged the more expensive exploration of genuinely new fields. Despite a rise in the market price of crude oil, there will emerge in 2020 a significant shortfall in the short-term sustainability of US oil supply.
As the ebb and flow of energy investment unfolds, that shortfall will be met. But this will take time and subject the market to another bout with volatility.
Even a major development in reducing operating costs at the well will run up against a main limitation. Additional available volume will be restricted by the overall demand level.
Ongoing constrictions in delivery pipelines, terminal and storage availability, and export capacity is outing pressure on wellhead prices from the other end. This has become a major problem in the Permian, America's most prolific production basin.
Once again, there will be relief here as additional support comes online. But that has required additional capital investment and time. As a result, Permian well completions fell 16 percent, with basin hiring down sharply.
Expect a Shakeup from the Rising Cost of Debt
However, the most visible financial pressure on production comes from a "broader picture" matter – the cost of debt and return on investment (ROI). The vast majority of US producers operate cash poor. That is, forward projects are primarily financed from new outside investment or debt, not from existing sales proceeds.
Oil company debt is from the highest levels of the high yield (high risk) bond market. These are junk bonds on steroids. When there is a constriction in the debt market, the cost of money increases in the sector relied upon by oil companies more than any other. The following graphic provides a striking indication of what happened as oil prices began to collapse in late 2014.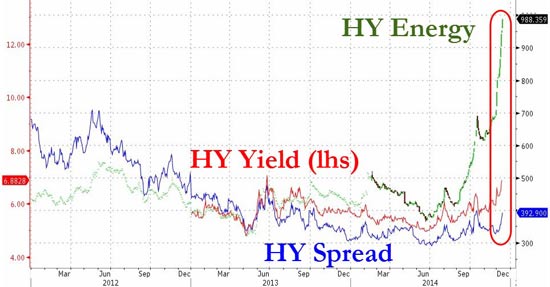 We are not back to this level…yet. But expect that the rising cost of the debt relied upon will result in a similar track. As last time, this will result with an increasing number of bankruptcies, mergers, and acquisitions (M&A).
Aggregate figures make for a disturbing ROI picture. In 2019, the international and U.S. market prices for oil (i.e., Brent and WTI benchmark figures) rose 26 percent and 32 percent, respectively. ROI, on the other hand, as measured by the S&P 500 Energy Index advanced only 7.8 percent.
Granted, calculating ROI in this way limits the determination to return from publicly traded companies. Investing in private projects usually provides a better return. Yet even in this scenario, the result lagged the oil prices.
All of this is added to production specific considerations and will result in a plateauing of U.S. production. Now to be clear, the resulting volume is still likely to be in excess of 12 to 12.5 million barrels a day and there will remain choice moves for the retail investor.
We are just going to be more selective in where to put money.
Sincerely,
Kent
The post What You Need to Know about the Pressures on U.S. Shale Oil appeared first on Oil & Energy Investor.
Powered by WPeMatico